Santuario della Madonna della Sughera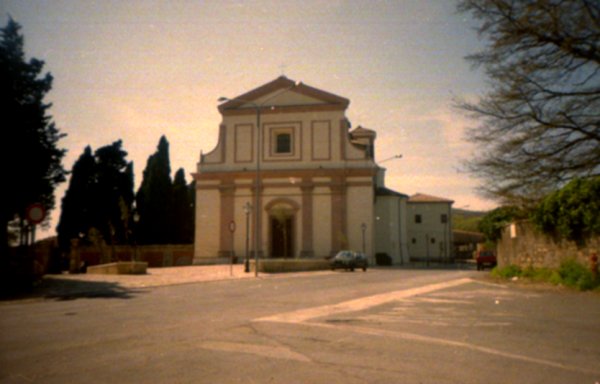 A pious legend, November 1, 1501, the Feast of All Saints, two hunters Tolfa (of which the tradition handed down the names: Costantino Celli and Bartholomew Rosa) decided to go hunting not far from the town and, to their great amazement, over a cork tree, they saw a panel painting depicting the image of the Virgin. Sparsasi quickly the news, the picture was taken in procession to the village and provisionally placed in the church of Our Lady of Mercy. But the next day the picture turned out mysteriously disappeared; and after a frantic search was found on the same cork tree where he was discovered by two hunters. The coincidence was interpreted as the will of the Virgin to remain in that place.
Aware of what the banker Agostino Chigi, then contractor alum, he built at his own expense in 1506 a church of octagonal shape in the exact spot where he was the tree of miracle incorporating the same in construction, while between the end of 1521 and early 1522 was brought to completion the construction the convent. The church was expanded in 1560. The painting was lost during the tragic days of March 1799 when the French troops plundered the country and churches slaughtering many inhabitants of Tolfa.
In the convent adjoining the church, completely renovated, the home of the new museum Civic municipal where you can find artifacts from excavations of the Etruscan necropolis, the Roman villas, the temple of Grasceta of Cavallari, from Piantangeli etc. The convent is on two floors quadrangular around the central cloister: a ground floor, in addition to the courtyard with the ancient well, we find large renovated rooms and intended to cultural spaces and a small bar, while upstairs we visit the new Civic Museum which found, in this context, a new and more organic development and educational exhibition.