Rome from above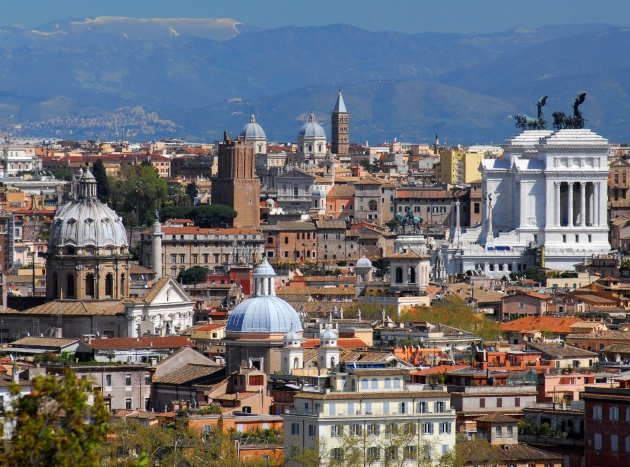 Getting lost in the alleys of Rome, walk through the ancient ruins is definitely an unforgettable experience, but who has not wanted to admire the capital city from above, you can see at a single glance all the historical center and beyond, up to with an eye to the nearby Castelli Romani or observe special monuments difficult to grasp from a perspective usual.
Rome offers sights, each with its own peculiarities, which enjoy a splendid view:


GIANICOLO

From this hill, on the right bank of the Tiber, from the lookout near the statue of Garibaldi, you can admire fascinating views of the historic center.


VICTORIAN TERRACED

From the terrace of Quadrighe, on top of the Vittoriano complex, you can enjoy a truly breathtaking panorama. Two panoramic elevators, inaugurated in 2007, can reach the highest point of the complex, from which you can admire Rome at 360 °.
Panoramic views from the magnificence of the Colosseum and the Roman Forum to the churches of the old town, from the Tiber River to the Jewish Ghetto, the Piazza del Campidoglio to the Quirinal and the modern neighborhood Eur to the characteristic Castelli Romani.


PINCIO

From here, on the beautiful terrace of Piazza Napoleone I, you appreciate one of the most beautiful views of the world. No one can remain immune in front of this scene able to understand much of the historic center of Rome (including the dome of St. Peter's and Castel Sant'Angelo) and offer a truly picturesque sunset.


GARDEN OF ORANGES

On top of one of the most elegant hills of Rome, the Aventine, between the medieval walls, the remains of the ancient fortress of the family of Savelli is Savello Park (also known as the Orange Garden), small rectangular garden. From here you can enjoy a wonderful view of Rome that goes by the loop of the Tiber River to St. Peter's Basilica.


DOME OF SAN PIETRO

You have to climb 537 steps of the long climb spiral, called "snail Sant'Andrea" before arriving at the gallery-outside of the dome of St. Peter. From here you can admire Rome to 360 °: the monuments, the villas, the gardens, the Tiber, to the Alban Hills in the distance.