Roman traditions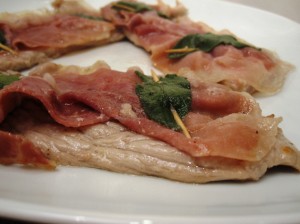 Roman cooking is essentially based on popular, working-class food,  mainly using simple ingredients which has been enhanced over the centuries by various recipes brought in by peoples living in the city and surrounding area.
The rather oily dishes often take no time to be prepared, while being at the same time quite savoury. The world famous "Rigatoni alla Pajata" (pasta with the small intestine of a calf) or "Coda alla Vaccinara" (oxtail and vegetable stew) found their way onto the kitchen table because nothing was to be wasted at the butcher's.
The Romans' choice meats are "Volatili" (fowl) and "Capretto"(kid). One of the most popular dishes to be found on the menu is chicken with peppers which is often served up on "Ferragosto" (August 15th) while another is "Abbacchio allo Scottadito"(grilled lamb chops eaten using fingers and therefore "Scottadito", getting your fingers burnt). Ideally this should be consumed together with either some "Puntarelle con Acciughe" (Roman wild chicory. with anchovies) or Carciofi alla Giudia (Literally: Jewish style artichokes).
Along with milk, the Roman countryside also produces some excellent local cheese called "Pecorino Romano", best eaten with broad beans.
And no meal in Rome is complete without a proper desert: "Maritozzo con la panna" (Sweet Bread Rolls filled with Whipped Cream) or let's try some traditional Carnival fritters, "frappe"  and " castagnole".