Restaurant Pizzeria Il Marchigiano, Marche and Tuscan cuisine in Civitavecchia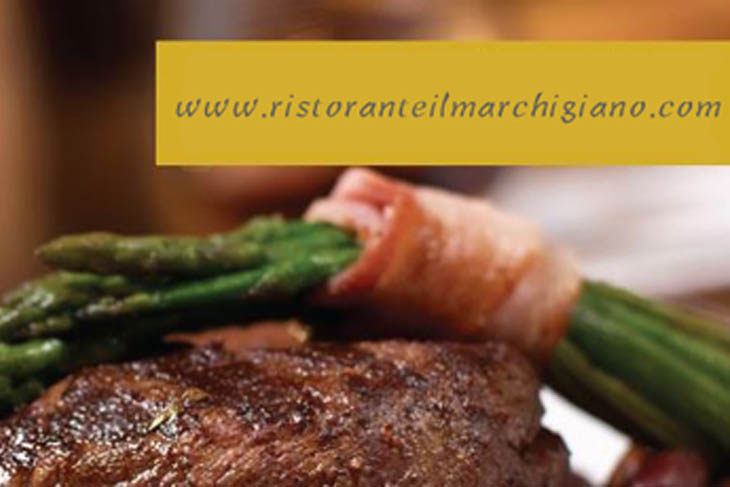 Selected meat cooked on the grill, homemade bread and pasta, good pizza and vegetarian menu
The restaurant Il Marchigiano is a magnificent restaurant in Civitavecchia , founded by Elio in 1964 and managed by his sons Paolo and Antonio, where guests can enjoy typical Marche and Tuscany cuisine based on the absolute quality of the raw materials, reworked so refined by the imagination and prowess of the chef Antonio.
Il Marchigiano is the perfect place to delight your palate with dishes of mushrooms and truffles , dishes of fish prepared with the locally caught fish and especially many specialty selected meat of the best farms cooked strictly to the brace : succulent Florentine, cut and sirloin, meat Danish, Irish Angus and on request you can also enjoy the Canadian bison.
In thies restaurant are spoiled for choice as starters superb bacon fennel on arugula and pecorino cheese and chopping board with sliced ​​toasted bread and fried dumplings; among the first, all cooked with homemade pasta (as well as bread), you can not taste the ricotta ravioli and borage (from November to March) or those with meat seasoned with truffle and bacon colonnade, but also the pinching with ricotta and spinach with cherry tomatoes and basil reduction, paccheri with chicory, cheese and crispy bacon and fettucine with seafood.
The side dishes are prepared exclusively with seasonal vegetables: from the classic and timeless Roman artichokes, chicory wild chicory sfizione to brush up.
The remarkable cellar, personally supervised by Paul, sommelier, designed for the optimum match with every dish
The restaurant, for those who do not like meat, it also has a vegetarian menu and a 'excellent pizzeria : pizza, particularly light and digestible, prepared with dough long rising (over four days) and stone-baked ; not surprisingly in the Italian Championship 2007 The pizzeria was ranked 5th and is always among the first national rankings.
The restaurant, with large dining room with 250 seats and equipped with ample parking, is ideal for ceremonies, conventions, business lunches and events and can be rented for any occasion.
RESTAURANT: :
MARCHE AND TUSCANY COOKERY
GRILLED MEAT
LONG RISING PIZZA COOKED ON STONE
PRICE:
MEDIUM
WHERE:
VIA AURELIA NORD 144 CIVITAVECCHIA