Church of Santa Prisca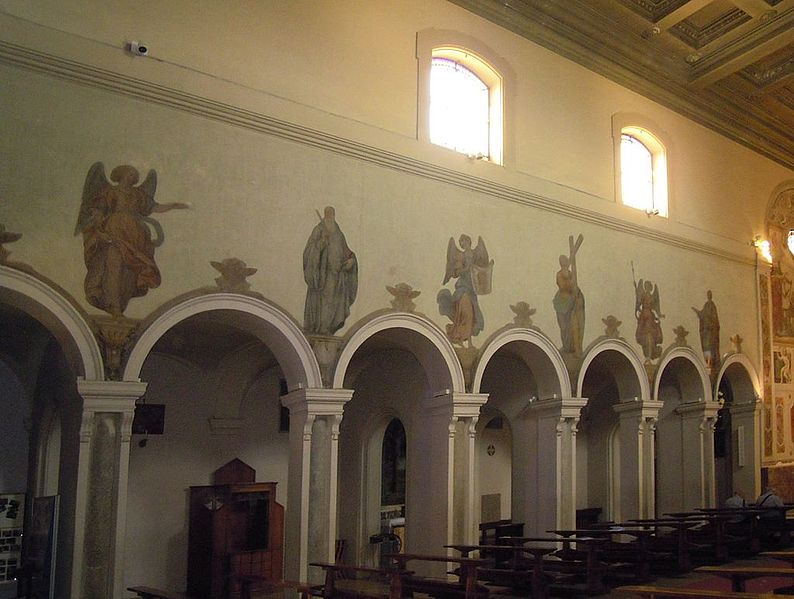 The church of Santa Prisca is a Catholic place of worship in Rome, located on the Aventine, the Ripa district.
On the church, which is located above a domus of the second century and is dedicated to St Prisca, martyr of the first century, insist the eponymous parish belonging to the diocese of Rome and the titular church Santa Prisca, instituted by Pope Evaristo in 112.
The facade of the church of Santa Prisca was built in 1600 and designed by Carlo Lombardo and subsequently raised. It is brick, with decorative elements in travertine, such as the lower part of the prospectus, the triangular tympanum of the portal (supported by two Corinthian columns smooth granite, from Roman times), the cornice and the Ionic capitals of the two pairs of pilasters that ideally sustain it. At the center, above the portal, there is an oval oculus, placed within a rectangular marble frame decorated with scrolls, also in travertine.
The statement is preceded by a narrow courtyard: the latter is placed between the Augustinian convent (left) and the first four bays of the right aisle, now converted into the sacristy of the church, which still visible arches that put them in communication with the nave, before the demolition of the first part of the latter.
The interior of the church is in the Baroque style, without transept and with three naves separated by two rows of arches resting on rectangular pillars decorated with small shelves, inside of which are enclosed, still visible in part, the ancient columns .