Castrum Novum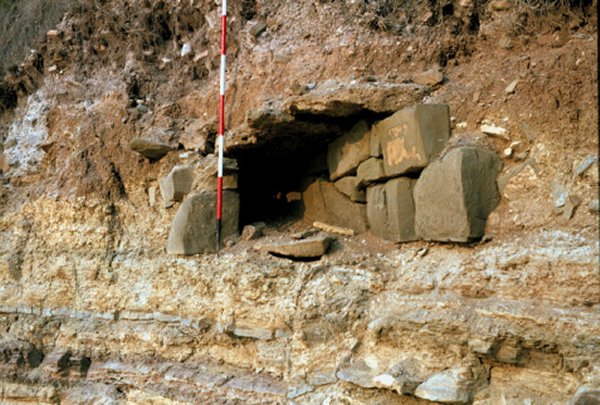 At km 64 of the Via Aurelia encounter a flat Chiaruccia Tower, which is located in the ancient Roman Castrum Novum maritime colony, founded in 264 BC in defense of the northern coast of the territory of Caere, repopulated perhaps in Roman Caesar (Colonia Iulia Castronovana).
The city with a plant originally probably rectangular, surrounded by walls, in imperial times was provided with theater, the Curia, an archive (tabularium), an altar sacred to Apollo and an aqueduct remind the public as some inscriptions found in During the excavations not regular, conducted on several occasions since the eighteenth century. Also from inscriptions we are informed about the existence of decuriones (members of the Senate of the colony), duumviri quinquennales (supreme magistrates of the city), Augustales (priests of the imperial cult), magistri vici (district administrators).
Probably in the Augustan period L. Ateio Capito restored the curia and tabularium donating to the city at his own expense, the theater and porches attached. Numerous walls, marble mosaic floors, baths and colonnades on the imperial phase were seen during the research over the last three centuries have led to the discovery of a large number of architectural and sculptural fragments among which is reminiscent of a 'herm of Aspasia veiled statues of emperors, a small statue of Bacchus, a statue of mastiff dog lying; of exceptional interest in the discovery, in 1778, of a chest with 122 gold coins dating from the first and second century. A.D.
Complex stratigraphy of the land including the remains of walls in reticulated work and brickwork, floors and drains are visible in the section of land exposed by sea erosion along the beach, for a long way short of modern stilts.
Numerous materials of the Iron Age (IX century BC.) And Etruscan archaic, recovered several times in recent decades, documenting the attendance area in earlier times the deduction of the Roman colony; it is likely that the landing point of Castrum Novum was already active in Etruscan and that the city-fortress of the second century. BC, as in the case of Pyrgi, has been partly superimposed on the previous settlement.