Ancient Greece in the City of Rome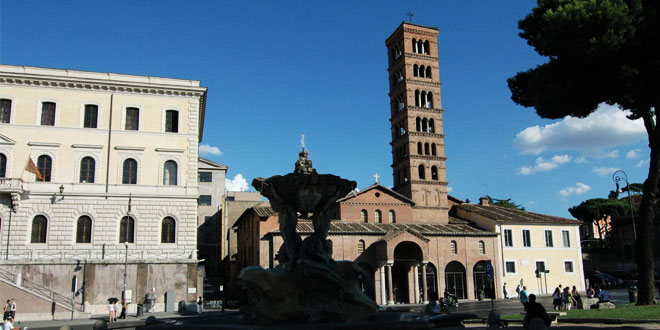 Two great civilizations, Greek and Roman, meet centuries ago and leave a footprint in the other. There are numerous references to the civilization of ancient Greece in the capital.
Between the Tiber and the Circus Maximus is Via Greece. Once that area was the Schola Greek, or a protected territory militarily, that welcomed the Greek pilgrims fleeing persecution of Leo III Isauro and protected them in the foreign city.
In the same area, near the Mouth of Truth, stands the Church of Santa Maria in Cosmedin, place of worship that has passed into the hands of the Greeks persecuted about half of the 700 dc The term means Kosmedione adorned, to call the interior of the church is richly decorated. The church has strengthened the presence of the Greeks in Rome, as well as their influence in the trade along the nearby Tiber River and strategic. Opposite the church there are the Temple of Fortuna Virile and the Temple of Hercules.
Continuing true the Via del Corso you arrive in Campo Marzio where the College of the Greeks, is currently an international college for seminarians.
At the entrance of the Spanish Steps is instead present the famous Greek Cafe, opened in 1760. A meeting place of famous personalities, artists, travelers from all over the world, even today retains quell'arredamento of yesteryear that allows breathe l 'ancient atmosphere. On the walls are preserved prints, dedications, writings, paintings that testify the passage of many artists, who then attended the nearby Via Margutta and Via Sistina.