A Bridge over the Tiber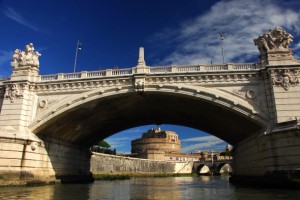 A key factor in Lazio's territory and history, the Tiber has served, right from Rome's foundation, as a multi-functional resource.
In addition to its importance as a constant source of water supply, the river represents for the Capital a multi-facet  pool of  interests: environmental, archaeological, urban planning, architectonic, cultural, artistic, sporting and recreational.
Rome, on consolidating its century-long relationship with the Tiber, is intent on broadening these very ties inland thereby creating with the Tiberina zone a steady exchange of know-how, goals and synergies.
With Rome its favoured and natural focal point, the Tiberina zone encompasses 6 Regions, 12 provinces and a few hundred municipalities.
With the Tiber and its tributaries flowing through it, the Tiberina, an area  well-linked to the Capital, is composed of plains, hills  and mountains unfolding before the eyes of local residents and tourists alike, revealing varied picturesque images.
Along its waterways a perfect rapport may be established between the great metropolis and the different sized centres of the surrounding territory, thereby creating easily-accessible and diverse cultural and recreational opportunities for Romans, residents of the Tiberina area and tourists.
With this aim in mind, the Capital's Administration and "Consorzio Tiberina" (Development Agency for the joint optimizing of the Tiber Basin) have signed a Convention making the Tiber a common natural resource, in line with a principle of comprehensive integration involving every local territory.