Roma Gospel Festival in Rome – from 20/12/2012 to 31/12/2012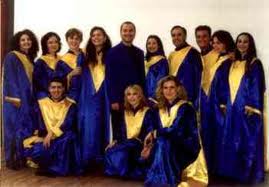 The Roma Gospel Festival, Christmas in the Auditorium, has become the largest festival of gospel music in Europe in which they are housed some of the best groups of spirituals and gospels from the United States.
During the festival, it outlines the latest of a musical genre well-established and widespread in Italy and Europe, all characterized by a deep full of joyful spirituality.
The festival, directed by Mario Ciampà, came to the seventeenth edition and has been for years a solid reference point for enthusiasts and the curious of this particular form of blues, closely linked to the deepest religious devotion.
This festival presents choirs and best-known figures of the American landscape as the famous Dr. Bobby Jones, singer and radio and television host, who won a Grammy Award; groups in New York and Harlem Gospel Choir Harlem Opera Theater, known throughout the world, two choirs and young adolescents, Chicago Gospel Choir and Song of Solomon, and then the singers Craig Adams and Monica Lisa Stevenson, groups Spirit of New Orleans, Light of love and Gospel Victory in Chicago.
Thursday, 20/12/2012 Sala Sinopoli at 21
Harlem Opera Theater
Saturday, 22/12/2012 Sala Sinopoli at 21
Spirit of New Orleans Gospel Choir
Sunday, 23/12/2012 Sala Sinopoli at 21
Harlem Gospel Choir
Tuesday, 25/12/2012 Sala Sinopoli at 18
Paul Whitman Chicago Choir
Wednesday, 26/12/2012 Sala Sinopoli at 21
Craig Adams "Gospel Night"
Thursday, 27/12/2012 Sala Sinopoli at 21
Light of Love Choir
Friday, 28/12/2012 Sala Sinopoli at 21
Dr. Bobby Jones Gospel & Nashville Superchoir
Saturday, 29/12/2012 Sala Sinopoli at 21
The Victory Gospel Singers
Sunday, 30/12/2012 Sala Sinopoli at 21
Song of Solomon Gospel Choir
Monday, 31/12/2012 Sala Sinopoli at 21
Monica Lisa Stevenson Gospel Choir