Classical Rome (full day)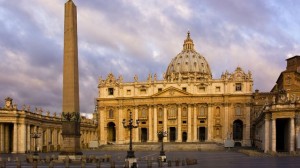 Hi friends all over the world!
We are a tour organization with experienced authorized guides who will take care of you since 9.15 am in Civitavecchia until 5-5.30 pm to embark again your ship.
Are you interested in the old Rome masterpieces? You will see plenty on the way of your tour!
Then we'll drive you discovering the old Rome, throughout the history of the Eternal City and the wide Roman empire.
So we'll see the Caracalla Baths where 14000 people could enjoy hot – mild – cold water areas with no charge; stop for pictures. Then we'll continue to:
-Circo Massimo a 600 m large area where up to 250.000 people (with no charge) could enjoy the horses' charriots races: emperors as Augustus and others could see the show from the roofs of their buildings!
-The fascinating hill of Aventino with its giant Basilica of Santa Sabina, enriched with the original wooden door made in 5th century AD! Enjoy a panoramic view of Rome from the nearby garden.
-Then Piazza Venezia a majestic monument to the 1st King of Italy and the Imperial Forums (in the Trajan private one a column with the description of the two wars won in Romania). Beside you'll enjoy the Augustus, Nerva, Peace and Caesar's private Forums, ordered (and paid) by the emperors. They are located beside the Public Forum where the Romans used to spend day and night meeting, chatting and also praying.
- Immediately after, the Coliseum will empress you with its 240 arches and the ghosts of the Gladiators (think about Russel Crowe) will remind you moments of spectacular violence blessed by the Emperors!
Then you will approach the downtown 16th-17th centuries baroque area: Trevi Fountain (keep ready a coin to drop in), the Pantheon the greatest pagan temple made 2000 years ago and still going strong; Piazza Navona where the greatest architects of 17th century Bernini and Borromini, always in competition, reached their highest perfection.
Locally lunch will be at your ease (plenty of small restaurants, pizzeria….ice-cream!)
Back to bus you'll arrive in St. Peter's. Full detailed explanation of the Church and the Square.
Final meeting at 4 pm and back to ship: …..tired but happy!!
*Dress code inside the Vatican:  no exposed shoulders, knees, midriff, or (in the case of the ladies) cleavage