Royal Bus, depuis 1934 nous nous occupons du transport de personnes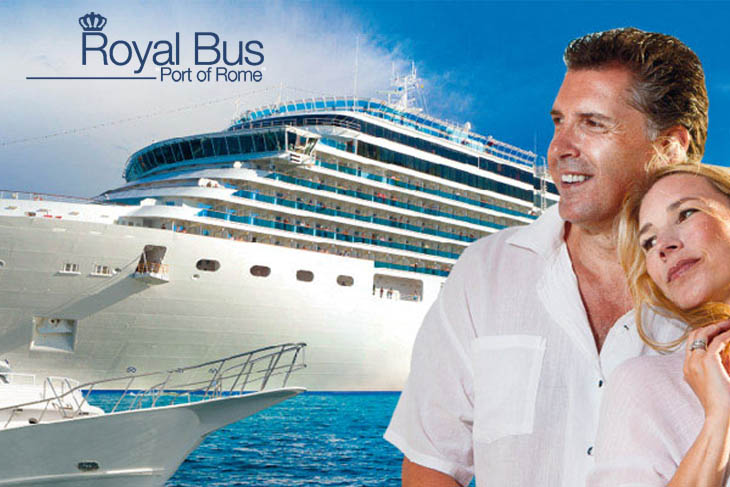 Des membres du Royal Bus sont chez les personnes de transport en 1934
The Royal Bus fournit des services pour le transport de personnes allant du tourisme à l'entreprise d'une manière totale. Fonctionnement 24 h 24, 365 jours par an, un responsable de la compagnie accréditée au service navettamento libre à l'intérieur du port de Civitavecchia (Port Mobilité)
Transfert de et vers les aéroports
Les aéroports de transfert organisés par Royal Bus présente plusieurs avantages: commodité, certains taux, vitesse, flexibilité.
Chauffeur
Transferts: hôtel, port, aéroport, visites de la ville, parc automobile. Nous fournissons chauffeur multilingue pour faire le tour inoubliable de Civitavecchia et ses environs, Rome, Naples, Florence et dans toute l'Italie. The Royal Bus offre à ses clients une large gamme de moyens de classe avec des tarifs compétitifs.
Service de location de bus Granturismo
Visitez les citoyens et national. Notre entraîneur sont tous nouvellement inscrits et plein facultatif, juste pour se assurer le maximum de confort aux passagers.
Service de navette
Le service est totalement gratuit pour les passagers navettamento de croisière et passagers de Porto.
Le transport VIP
Le transport VIP avec limousines et les fourgonnettes pour toutes les destinations avec chauffeur multilingue.
Garage fermé avec service voiturier
The Royal Bus offre à ses clients un garage sécurisé de 600 mètres carrés avec un lavage de voiture et atelier. Service actif de 24 h 24, comprend la prise en charge de la voiture, quotidienne, hebdomadaire et mensuelle.
Service Hélitaxi – aereotaxi de service
Fly en Italie et au-delà avec le confort et la sécurité de classe made in Italy